When I left my corporate job to begin my golf journey in 2003 as a 27-year-old average length hitting 14-handicap golfer, I quickly found out about the benefits of getting custom fit for golf clubs.
It's very much similar to getting fit for a pair of shoes. Were a runner to be wearing oversized floppy red clown shoes, that runner would not be near as fast or effective in his run as if he were to wear a pair of good running shoes. His performance would even be further enhanced were he to buy something that was made for his particular type of run - sprinting on a track, going long distances, trail running, etc.
The same is true for golf clubs.
Prior to moving from the Midwest to California to pursue my golf dreams, I traded in the cheap set of clubs that I had bought from Wal-Mart for a nice new set of Callaway X-12s through Golf MD in Lenexa, Kansas. Right away I noticed a difference in performance because the clubs were custom fit to my body and swing style in regard to the club length, lie angles, and shaft flex.
When I arrived in California in January 2003, I bought a membership at Lost Canyons Golf Club in Simi Valley. As I started to practice and my handicap started to come down, I got teased a bit by better players in the area for playing cavity back irons with graphite shafts. They told me that, "Good players only play steel shafts and blades." Not knowing any better, I switched to some forged steel-shafted Titleist 690 MB blades so that I could be in the "good player club".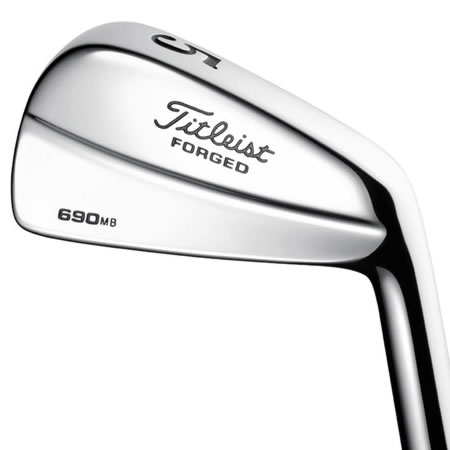 While my new sticks were pretty looking and it made me feel more macho to be playing blades, there really was no improvement in performance. In fact, it probably hurt my game more than anything.
The steel-shafted Titleist blades were heavier than the old graphite-shafted Callaways and I couldn't swing the new Titleist irons as fast. My ego didn't like that I had to hit one more club than usual to get the same number club to go the same old distance.
Some of those better players had also told me that it would be easier to hit draws and fades with blades, but honestly I found it to be no different. As it happens, all these years later, I still believe that. If you understand how to shape your shots, you can do that just as easily with cavity backs as you can blades.
However, it was early in my golf career and I was easily impressionable.
Anyway, since we as golfers can lose a bit of feel under pressure situations, I did end up deciding to stay with the heavier steel shafts. However, I knew that I wanted to eventually go back to at least a small form of a cavity back for the extra forgiveness. Once I had enough money saved up, with the help of Scott Herrigstag in California, I switched to a set of forged and fitted Wishon 550C forged irons.
Several really cool things about this new set were that:
They were my first irons that were MOI-matched (basically meaning each club was weighted to require the same starting strength in the downswing)
We fit each individual club for the lie angle rather than fitting only one and basing the rest of the clubs off that one iron
We put some vibration dampeners in the shafts
We switched to jumbo Chamois oversized grips (cheap long-lasting arthritic grips)
Scott was a great club fitter and this was by far my best set up to this point. It was fit for me and my golf swing, I got back the extra forgiveness of a cavity back, and the clubs had a softer feel (which my joints appreciated) from the vibration dampeners and big grips.
Yet, I still knew deep down that I could improve upon my set even further.
But how?
As I'm sure many of you know, a conventional set of golf clubs is typically built in ½-inch increment lengths with varying club head lie angles throughout the set, and the head weights get lighter in weight as the club gets longer in length.
Let's take a look at the specifications of those above-mentioned Wishon 550C forged irons.
| | | | |
| --- | --- | --- | --- |
| Iron | Loft Angle (degrees) | Lie Angle (degrees) | Head Weight (grams) |
| 4-Iron | 24 | 60.0 | 246 g |
| 5-Iron | 28 | 61.0 | 253 g |
| 6-Iron | 32 | 61.5 | 260 g |
| 7-Iron | 36 | 62.0 | 267 g |
| 8-Iron | 40 | 63.0 | 274 g |
| 9-Iron | 44 | 64.0 | 281 g |
| PW | 48 | 64.0 | 285 g |
| SW | 52 | 64.0 | 284 g |
| GW | 55 | 64.0 | 296 g |
As you can see, there is variance and a rough progression in each club with loft, lie, and weight that corresponds to the different lengths in clubs.
As I continued to ponder how I could improve my irons set, one day I thought … hmmm, it sure would be a heck of a lot easier to hit these if they were all the same length.
Think about the potential benefits.
If all the irons were the same length, you could use the exact same swing with the exact same ball position and setup throughout the entire set of irons. The consistency could only help one's game.
Unfortunately, to turn a conventional set of irons in to a single length iron set is very difficult.
There are two main problems.
First, all the head weights typically differ in weight by 6-8 grams from head to head. If you make all the clubs 4-iron length, you have to somehow grind off a bunch of weight from the other higher-lofted clubs to get them all as light as the 4-iron head. Not to mention, longer irons like a 4-iron are usually harder to hit. Similarly, if you make them all pitching wedge length, you have to add a lot of weight to the lower-lofted heads.
If you somehow manage to do it right, the clubs are all mangled up from all the grinding, lead tape, etc. It's not exactly pretty.
Second, the lie angles are also different. Going from the 4-iron to the pitching wedge in this particular iron set is a 4-degree difference. If the metal is soft enough, some sets can be bent this much, but for most it could damage the club heads to bend them that far.
In 2007, I began doing Internet research to see if I could find a company that made single length irons. I figured … surely someone would be smart enough to do it. I mean, the concept just made logical sense to me. Bobby Jones had apparently also used single length irons. Moe Norman had used them as well.
After a bit of poking around, I found that Tommy Armour Golf tried to sell same-length irons called the EQLs in the 1980s. They made a few key mistakes though and ended up not being successful.
I also found a company called My Ostrich Golf who made the Pure Fit iMatch SLs, but those were no longer in production either.
Then as luck would have it, I was finally able to find a set of irons that was designed specifically for being single length … 1Iron Golf.
Have a look at the 1Iron Golf iron specifications.
| | | | | | |
| --- | --- | --- | --- | --- | --- |
| Iron | Loft Angle (degrees) | Lie Angle (degrees) | Head Weight (grams) | Offset (mm) | Bounce (degrees) |
| 4-Iron | 23 | 63.5 | 273 g | 3.175 mm | 3 |
| 5-Iron | 27 | 63.5 | 273 g | 3.175 mm | 3 |
| 6-Iron | 31 | 63.5 | 273 g | 3.175 mm | 3 |
| 7-Iron | 35 | 63.5 | 273 g | 3.175 mm | 3 |
| 8-Iron | 39 | 63.5 | 273 g | 3.175 mm | 3 |
| 9-Iron | 43 | 63.5 | 273 g | 3.175 mm | 3 |
| PW | 47 | 63.5 | 273 g | 3.175 mm | 3 |
| GW | 51 | 63.5 | 273 g | 3.175 mm | 3 |
| SW | 55 | 63.5 | 273 g | 3.175 mm | 6 |
They are much more consistent spec-wise, right?
I bought myself a set and at first it felt a bit awkward to play such shorter length low-lofted clubs and longer-length high-lofted clubs. However, the more I practiced and played with them, the better and better my iron play got. In particular, it became a ton easier to hit the clubs like the lower-lofted clubs like the 4-iron, 5-iron, and 6-iron.
Wouldn't you know it, 4 months after I bought them, I played in the 2007 Long Beach Open and I shot my first tournament round of golf in the 60s.
Not bad for a former 27-year old 14-handicap golfer!
Later that year, my wife got a nice job offer in Zurich and we decided to move from California to Switzerland. While in Europe, my iron play continued to get better and better.
I remember there was a period where my handicap on my home course got as low as +5.8 (that's 5.8 shots better than scratch!). I shot 64 (-8) once and 65 (-7) several times. In fact, it was a bad day if I didn't break 70.
I would simply use swing speed training to hit the ball long off the tee, I'd use my single length irons to hit the ball close, and then it was just a matter of knocking my putts in. I managed to get in a number of tour events on a part-time basis and made a several cuts but unfortunately that was right after the 2008 financial crash and for whatever reason I never secured any sort of substantial sponsorship to go play tournaments full-time.
Then in 2010, the USGA changed their groove rules. That meant as a Pro, I could no longer play my 1Iron Golf single length irons since they had the old grooves and at the time 1Iron Golf had no definitive plans to update the irons to the new grooves. So I had to go back to a regular set of irons.
In 2011, I had asked both Tom Wishon and David Edel if they'd be interested in partnering with me to create my own brand of single length set of irons. Tom was a friend and savvy golfers will know him as a famous club designer. David Edel was also well known in the equipment world.
Both declined.
But my stature was continuing to grow in the golf world and as an alternative Barney Adams of Adams Golf offered me equipment support. He arranged for me to go through a good tour department fitting at their facility in Texas. This was a great experience and I played well with my Adams Idea Pro a12 iron set.
In fact, in 2012 I finished 5th with them at the Speedgolf World Championships at Bandon Dunes, which was aired on CBS during that year's Masters.
Around the time of the World Championships, I learned that David Lake of 1Iron Golf was helping launch GRIA Golf's NOVA Single Length Hybrid Irons, which would have the updated USGA grooves. Despite the NOVAs being such large club heads and 5-iron length, I was still a fan of single length irons and I switched over to the them.
I played similarly well with the NOVAs and shot the championship record for golf score at the 2013 Speedgolf World Championships at Bandon Dunes with a 72 in 55 minutes and 42 seconds.
The clubs still weren't exactly what I wanted though…and nothing on the market at the time quite fit the bill.
Of course, the NOVAs had conforming grooves but they also had such large club heads, couldn't be bent for loft/lie, and were a very long 5-iron length. The 1Iron Golf irons still had no set timeline for groove updates nor could they be bent for loft/lie. Value Golf's Pinhawk SL single length irons looked cool and but also didn't have the conforming grooves at the time. Plus, despite being single length sets, they all had some minor ball flight issues.
I saw no end in site to getting what I really wanted.
Similarly, no other major manufacturer was yet in the single length market.
To my understanding, larger companies weren't doing this as a result of misguided manufacturing decisions made earlier in the 20th century. Now that thousands and thousands of iron sets have been made this way, consequently I think the modern golf psyche is now so deeply entrenched in the idea that irons have to all be different lengths, that no major manufacturer is willing to take the risk at trying to change the design perception of the entire golf industry. Even though the science supports same length clubs, we're still stuck where we are because of a mix of stubborn tradition and a business risk that few will take on.
To briefly elaborate, one time I was talking to the former CEO of another major golf company (I'll protect his identity) and we were talking about single length irons...here is what he said:
"Same length has been done, personally I've been a fan but it's a tough concept to sell. Reality; In the US golf industry there are 6 major chains that buy product that is sold to what constitutes 85% of the market. All but roughly 2-3 % of the rest is sold in golf pro shops and they are influenced by the retailers. The buyers for these major chains only buy what is played on tour and pretty much in order of market share. Like it or not we dance to that tune. To introduce something like single length after investing in the design we'd have to spend millions on marketing and not so minor get tour credibility because no product is successful at retail without it."
-Anonymous Former Major Golf Company CEO
So even though this CEO is personally a fan, the company wouldn't do it because the buyers for retail stores typically only buy what's played on Tour...and it would cost too much money to get Tour players to play same length despite the good concept!
It was just about money and risk and not what's best for the consumer!
Not sure where to go, in 2013 I ended up asking Tom Wishon again if he'd like to do a single length iron project together.
However, this time he said yes!
In October 2013, I stopped by Tom's R&D facility in Durango, Colorado, and we began hammering out a plan on his whiteboard to create my own brand of single length irons.
The collaboration was perfect. Of course, he was a titan in the club design world. I had played and sold single length sets from 1Iron Golf, Value Golf, and GRIA Golf and I felt like I understood the single length market very well. We also had the advantage of the Internet for research and modern technology in the form of things like Trackman launch monitors, robot testing, and more.
My goal with Tom was to create a single length set of irons that retained the inherent benefits of single length irons while fixing all the historical problems. The irons had to meet the following criteria:
Be cool-looking
Be USGA-conforming
Be adjustable for loft and lie angles
Be 8-iron length (so the wedges wouldn't feel so overly long and all the clubs would be easier to hit than other single length sets that were usually built at 5, 6, or 7-iron length)
Have sufficient distance gapping
Go the distances and trajectories that one would expect for a modern day set of golf clubs
By April 2016, after 2.5 years of research, development, and testing … Tom and I finally finished our mission and launched Sterling Irons®, the most technologically advanced set of single length irons ever made.
Have a look at the specifications:
Anyway, I hope this review article has been of use to you.
The end answer to the question posed by this article is that, yes, single length irons definitely work.
For the busy amateur who doesn't get a chance to practice much, single length irons really help simplify the game and make it more fun.
Professionals and those who have the time to train longer hours can definitely have an advantage on their approach shots … something that is critical to gaining strokes on the field and winning on Tour.
If you really want to improve your game, I highly suggest two things.
First, to get more distance off the tee, do some basic swing speed training available through Swing Man Golf. I've played as both a short hitter and a power hitter and I can tell you the game is a lot easier and much more fun to be a power hitter. Fortunately, you can learn/train to be a power player…it's not something you have to be born with. With a little bit of work on your part, it's very easy to pick up 12-16 mph on your driver swing speed. Depending on your efficiency, that translates to about 30-40 more yards off the tee.
Second, for approach shots, it's hard to beat the advantage of playing Sterling Irons® single length irons. Tom Wishon and I really feel like they are absolutely the best single length iron product (and iron set in general!) available on the market.
To learn more about Sterling Irons®, inquire with a local custom club fitter in your area … or go to the official website here.