When I began my golf journey as an average length hitting 14-handicapper, I quickly found out about the benefits of getting custom fit for golf clubs. It's very much similar to getting fit for a pair of shoes. Were a runner to be wearing oversized floppy red clown shoes, he would not be near as fast or effective in his run as if he were to wear a pair of good running shoes. His performance would even be further enhanced were he to buy something that was made for his particular type of run - sprinting on a track, going long distances, trail running, etc. The same is true for golf clubs.
So I traded in the cheap set of clubs that I had bought from Wal-Mart for a nice new set of Callaway X-12s. Right away I noticed a difference in performance because they were custom fit to my body and swing style in regard to the club length, lie angles, and shaft flex.
As I continued to progress and my handicap started to come down, I got teased a bit by better players for playing cavity back irons with graphite shafts. They told me that, "Good players only play steel shafts and blades." Not knowing any better, I switched to some forged steel-shafted Titleist 690 MB blades so that I could be in the "good player club".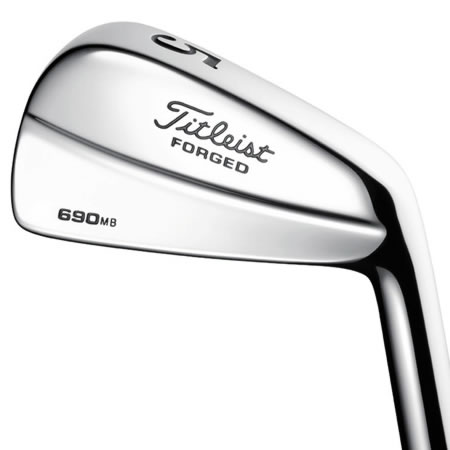 While they were very pretty looking and it made me feel more macho to be playing blades, there really was no improvement in performance. In fact, it probably hurt my game more than anything. Since the steel was heavier than the graphite, my ego didn't like that I had to hit one more club than usual to go the same distance. People also told me that it would be easier to hit draws and fades with blades, but I found it to be no different. If you can work the ball, you can work the ball. And while they certainly had a butter-type feel when I hit a ball on the sweet spot, I was basically forced to hit the sweet spot (not necessarily a bad thing) because any mis-hit would result in a really bad shot - plus the vibration of the mis-hit on the club would sting my hands and arms. I suppose it was a bit of a negative feedback loop.
Since we as golfers can lose a bit of feel under pressure situations, I decided to stay with the heavier steel shafts. However, I knew that I wanted to eventually go back to at least a small form of a cavity back for the extra forgiveness. Once I had enough money saved up, I switched to a set of forged and fitted Wishon 550 C forged irons. Several really cool things about this set were that they were my first irons that were MOI-matched (basically meaning each club was weighted to require the same starting strength), we fit each individual club for the lie angle rather than fitting only one and setting the rest to the conventional gap sequence, and we also put some vibration dampeners in the shafts and switched to jumbo Chamois oversized grips (cheap long-lasting arthritic grips).
This was by far my best set up to this point. It was fit for me and my golf swing, I got back the extra forgiveness of a cavity back, and the clubs had a softer feel which my joints appreciated. Yet, I still knew deep down that this wasn't the best possible way to go.
Why Same Length Golf Clubs?
As I'm sure many of you know, a conventional set of golf clubs is typically built in 1/2 inch increment lengths with varying clubhead lie angles throughout the set, and the head weights get lighter in weight as the club gets longer in length. Let's take a look at the specifications of the above-mentioned Wishon 550C forged irons.
| | | | |
| --- | --- | --- | --- |
| Iron | Loft Angle | Lie Angle | Head Weight |
| 3-Iron | 21 | 59.0 | 239 g |
| 4-Iron | 24 | 60.0 | 246 g |
| 5-Iron | 28 | 61.0 | 253 g |
| 6-Iron | 32 | 61.5 | 260 g |
| 7-Iron | 36 | 62.0 | 267 g |
| 8-Iron | 40 | 63.0 | 274 g |
| 9-Iron | 44 | 64.0 | 281 g |
| PW | 48 | 64.0 | 285 g |
| GW | 52 | 64.0 | 284 g |
| SW | 55 | 64.0 | 296 g |
As you can see, there is variance and a progression in each club with loft, lie, and weight that corresponds to the different lengths in clubs. Most golfers know that a 3-Iron will go farther than a Pitching Wedge, and many will tell you that the 3-iron goes farther because it is a longer length club and the loft makes the ball come off the club at a lower angle. This is true. While the length of a club makes a minor difference in how far you can hit a ball, typically the club also gets harder to hit cleanly. Any possible gain from a longer length club can be offset by the even greater distance loss from the off-center hit. Since loft is the primary determinant of how far a club goes, I thus knew I wanted an iron set that was the same length.
The problem is that this won't work with a conventional set, though, because each club head weighs differently in 6-8 gram increments. For the same length concept to work, all the club heads need to weigh the same. There's also the issue with conventional irons of the fractionally different swings you need make to accommodate for the differences in lengths and lie angles. How hard is it to be consistent when you have to use a slightly different swing with every iron (especially when you might only play and practice once per week or month)?
Benefits of Same Length Clubs
Think about the benefits of same length clubs. Because the clubs are the same length and same head weight, you can use the exact same swing with the exact same ball position and setup throughout the bag and still get consistent yardage gaps (remember, loft is the primary determinant of distance!). The Moment of Inertia (MOI), swing weights, club weights, head weights, shaft weights, shaft flexes, lie angles, etc are all the same. With so many variables being the same, your swing consistency goes up, you hit the ball in the sweet spot more often (and pick up any minor distance gain you would have missed out on from a longer length club), your accuracy improves, and your confidence goes up. As a result, scores go down!
Why Aren't All Manufacturers Making Same Length Clubs?
To my understanding, companies aren't making same length clubs as a result of misguided manufacturing decisions made earlier in the 20th century. Now that thousands and thousand of iron sets have been made this way, consequently I think the modern golf psyche is now so deeply entrenched in the idea that irons have to all be different lengths, that no major manufacturer is willing to take the risk at trying to change the design perception of the entire golf industry. Even though the science supports same length clubs, we're still stuck where we are because of a mix of stubborn tradition and a business risk that few will take on.
To elaborate more on the risk, one time I was talking to the former CEO of a major golf company (I'll protect his identity) and we were talking about same length irons...here is what he said:
"Same length has been done, personally I've been a fan but it's a tough concept to sell. Reality; In the US golf industry there are 6 major chains that buy product that is sold to what constitutes 85% of the market. All but roughly 2-3 % of the rest is sold in golf pro shops and they are influenced by the retailers. The buyers for these major chains only buy what is played on tour and pretty much in order of market share. Like it or not we dance to that tune. To introduce something like single length after investing in the design we'd have to spend millions on marketing and not so minor get tour credibility because no product is successful at retail without it."



-Anonymous Former Major Golf Company CEO
So even though this guy is personally a fan, the company wouldn't do it because the buyers for retail stores only buy what's played on Tour...and it would cost too much money to get Tour players to play same length despite the good concept! It's just about money and risk and not what's best for the consumer!
Anyway, I was still set on the idea of finding a same-length golf company. I figured surely someone would do it. I mean, the concept just makes logical sense. After doing a lot of internet research, I found that Tommy Armour Golf unsuccessfully tried to sell same-length irons called the EQLs back in the 1980s. As for something modern-day, My Ostrich Golf came out with the Pure Fit iMatch SLs, but for some reason Tim quit producing them a year or more ago. Fortunately, there is still a company that is making them...1 Iron Golf.
Here is some basic information about 1 Iron Golf. Note in the chart how much more consistent the head weights and lie angles are compared to a conventional set.
1 Iron Golf Clubs by David Lake
Manufacturer Specifications
| | | | | | |
| --- | --- | --- | --- | --- | --- |
| Iron | Loft Angle | Lie Angle | Head Weight | Offset | Bounce |
| 3-Iron | 19 | 63.5 | 273 g | 3.175 mm | 3 |
| 4-Iron | 23 | 63.5 | 273 g | 3.175 mm | 3 |
| 5-Iron | 27 | 63.5 | 273 g | 3.175 mm | 3 |
| 6-Iron | 31 | 63.5 | 273 g | 3.175 mm | 3 |
| 7-Iron | 35 | 63.5 | 273 g | 3.175 mm | 3 |
| 8-Iron | 39 | 63.5 | 273 g | 3.175 mm | 3 |
| 9-Iron | 43 | 63.5 | 273 g | 3.175 mm | 3 |
| PW | 47 | 63.5 | 273 g | 3.175 mm | 3 |
| GW | 51 | 63.5 | 273 g | 3.175 mm | 3 |
| SW | 55 | 63.5 | 273 g | 3.175 mm | 6 |
| LW | 59 | 63.5 | 273 g | 3.175 mm | 3 |
Features/Notes
- Cast Irons - High Grade 17-4 Stainless Steel
- Cavity Back
- Designed to be Built to a Fitted 7-iron length Based on the Golfer's Wrist-to-Floor Measurement
- Available in Right and Left Hand
- Shaft tip size 0.370"
- Loft Degree Tolerance of 0.5 degrees (normally major companies are +/- 1 degree)

Cost/Price
- $699.00 for 3-PW ($87.38 per club - includes shaft and grip)
- $95.00 each for a GW, SW, or LW

Company
Company: 1 Iron Golf, Inc.
Website: http://www.1irongolf.com
Phone: +1 419 662 9336
Contact Person: David Lake
Case for Buying David Lake's Same Length 1 Iron Golf Clubs
1) Design Consistency - The 1 Irons are very consistent in their design. There is no progressive offset, no weight change with the Sand Wedge, or no variation in bounce (except for the Sand Wedge) with the 1 Irons.

2) Full Set of Clubs - Although most people have trouble hitting a conventional 3-iron and would do better with a hybrid, the 1 Irons still offer a full set for those that want to go all irons.

3) Loft/Lie Drift - Because the 1 Irons are made with a harder-type cast steel, you won't have to worry as much about the loft and lie angles drifting over time.

4) Left Handed Clubs - If you are a left-handed golfer, fortunately they are available for you.

5) Customer Service - David Lake is excellent in this regard. He has responded thoughtfully to every email I've ever sent him. It's not just me either. Other people around the internet seem to say the same thing too.

6) 30-Day Money Back Guarantee - You have to be willing to step outside the industry box to be willing to try same length clubs, and the fact is that the concept won't be for everyone. If you are not sure if you'll want them and still would like the option of getting your money back in full without questions being asked, the 1 Irons are the way to go.

7) Discounts and Coupons - David Lake gives away various special bonuses when you mention a Coupon Code with your purchase.

To get the coupon code, please enter your email address here, and we will send it to you right away.
Some Things to Expect
At first it was a bit awkward to get used to them. I made the same old misses with my long and short irons as I did with my old clubs. But after about a month, my brain and body got used to the idea that I could make the same swing with the same ball position with every club in the bag. My iron consistency improved dramatically (especially with the long irons).
The same held true around the green. In the beginning, it was really strange to hit such long length wedges (although you can still choke down if you want and "make" it shorter that way). For that matter, any time you change any wedge (even a conventional length wedge), it can adversley affect your short game until you get used to the new wedge(s). But with some practice, similar to the full shots, my chipping also actually got better than before. I like to use different clubs around the green, so with the only variable that changes in the club being loft...the only thing that changes in the shot is it's height.
In the bunkers...same thing. It just took a little practice. Take a look at the below bunker video and fast forward to the 2:38 mark. Those demonstration bunker shots I'm hitting are using the 1 Iron LW (I even hole out the last one!). If you look close, note that the length of the club...is the same length as my 7-iron would be. As you can see, the 1 Irons are great out of the bunkers. The LW has a nice wide sole, so even though it doesn't have that much bounce, it still won't dig too much in to the sand. For bunkers with more sand, you can use the SW because it has more bounce.
Anyway, 4 months after I bought them, I played in the Long Beach Open. Using the 1 Irons I shot my first tournament round ever in the 60s. Not bad for someone who was a recent 14-handicapper!
One Other Thing to Keep in Mind
If you decide to buy a set for yourself, there is one other thing to keep in mind. On a rare occasion, people that have purchased a set of same length clubs will experience a little distance loss with some clubs compared to their old irons.
After a bit of investigation, I discovered that there were key differences in their clubs. For example, a steel-shafted 47-degree 1 Iron Pitching Wedge will not likely go as far a graphite-shafted 45-degree Pitching Wedge. While they are both "Pitching Wedges", one is two degrees stronger and lighter weight than the other. Of course, it will go farther! Remember...make sure you are comparing apples to apples and not apples to oranges! Different manufacturers use different lofts, even though they are stamped the same. That's actually why the TaylorMade Burner 2.0's go so far. They aren't necessarily going farther because they are technologically better, they are going farther mostly because they made the lofts stronger but kept the names the same. The old 5-iron is just stamped the 6-iron now. It's simply a trick that TaylorMade and many other large golf companies use to sell you new golf clubs every year.
Also, remember that as you get used to them, your ball striking will likely improve. So the more practice you put in to get used to them, the more often you will hit the sweet spot. Hitting the sweet spot more means you will gradually add distance to your overall average. This better contact can negate any marginal loss of distance when you may experience when you first are trying to get used to them.
For more, take a look at this video I made about 1 Iron Golf.
Questions About Same Length Clubs?
I hope all of this has been of use to you.

If you have any questions about same length irons, feel free to ask!

Kill The Ball!!!

Use SWING SPEED TRAINING to gain 30-40 Yards & Lower Your Scores NOW!!!



Sign Up by
December 7th, 2013
And the 3 Bonuses are Included Absolutely FREE!!!




What YOU Get:
A Member Login for unlimited 24/7 access to Swing Man Golf & it's unique Swing Speed Training Programs
Over 50 Web Pages of Text, Picture, and Video content
Over 60 total minutes of Video Golf Instruction"
More than 125 Pictures Showing Various Golf Positions and Techniques
Access to Reputable Club Fitter /Maker Locator Tool
FREE Text, Picture, and Video Content Updates
20% off on ALL Golf Instruction when you work with Jaacob in person
Exceptional Customer Service
3 BONUSES including "Secrets of Mike Austin's 515-Yard Drive",
"Shortcuts to Lower Scores" & "Getting More Out of Your Equipment"